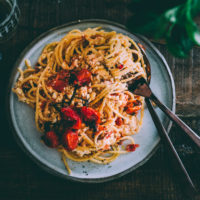 Last week my friend Lindsay brought up an idea I thought was really cute. Book club, but instead of reading books (lame) we cook the same recipe in a week and then come back and compare notes (very cool).
Last week's recipe was Grilled Red Pepper Pesto Pasta. You can see that post here.
So now one week later, lets compare notes! My first reaction to actually doing the shopping during this was "wait a second… there's no pesto in this recipe. Why has Lindsay sent me this wrongly named pasta" but upon further inspection of the recipe, I realized that we're supposed to be making the pesto. Except we're not! There's no basil in the recipe! Idk if this is a bad take but red pepper pesto doesn't count.
Anyway! I was thankfully able to get sundried tomatoes which I wasn't sure about. I skipped the peas cause I hate peas, and added some leftover mushrooms I had lying around. It turned out really good! I actually loved this recipe and I'm probably gonna add it into my regular schedule. Bonus points for being vegan too. Could you throw some bacon in there? Sure. But keeping it veggie won't kill you.
Alright this week! New recipe to make for the week. We'll come back this time next week and talk about: UunifetaPasta. AKA: Oven Feta Pasta.
This recipe was the "Trend of the year" in Finland in 2019. It got popular on tiktok and was so popular, the country briefly ran out of feta cheese. So hopefully the same doesn't happen here cause I like feta!
Recipe:
serves 2 hungry people:
Pasta (spaghetti or whatever you want)
200g Feta cheese. The brick stuff in the brine. (It's hiding with the fancy cheese in the back at Co-op instead of with the regular cheese)
1 box cherry tomatoes
oil, salt, pepper, and optional chili powder.
option: basil for garnish.
turn oven on 400
In an oven safe pan, drizzle oil on the bottom, place the whole 200g of feta in the pan right in the middle. Surround it with all the tomatoes. Mix around in the oil and sprinkle with seasoning.
Put in oven for 15, then turn up to 425 and do another 10 minutes. Watch for toasting but be generous. The original Finnish recipe literally says "If your smoke alarm isn't going off you're doing it wrong"
Cook your pasta according to instructions. Remember: Better to make too much than not enough.
Mix pasta into the pan and smoosh all the cheese around. That's it! Done. If you have any doubt, there is a PLETHORA of finnish tiktoks showing how they made the recipe.