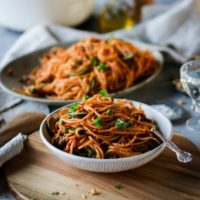 Earlier this week a friend of mine suggested a cool idea! She suggested that our friend group try to all cook the same meal at some point during the week and then we can come back and compare notes. I think this is a pretty cute idea so now I'm extending this to you! I'll share the recipes that we're gonna do, and then you can join in at home. Next week I'll share how it went for me.
So! Since I don't have a previous recipe book club entrance to talk about, lets just jump right into this week's eh?
This week my friends and I are gonna be making: Grilled Red Pepper Pesto Pasta ( <– Click link for recipe)
It's a vegan recipe but I'm certain you could add some stuff to it if you're gonna be fussy like that. I haven't checked to see if sundried tomatoes are going to be possible to get here in Peace River cause sometimes things like that are weirdly hard to find, but I'll poke around and see what I can find. I'm looking forward to this one! Sounds tasty. Can't go wrong with a bunch of red peppers and some carbs right? Right? Well I guess we'll see won't we?