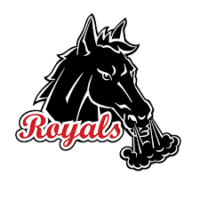 The Peace River Royals begin their postseason this week as they will host one of the regional tournaments in the Northern Alberta Hockey League.
The Royals will face their division rivals from Grande Prairie, Whitecourt and Fort McMurray in the tournament that will run from Thursday to Sunday at the Baytex Energy Centre.
Head Coach Charlie Robert says they've had an up and down regular season but are feeling good going into the playoffs.
"We had a nice little winning streak there for a while, but after Christmas we kinda stumbled out of the gate after that break. Lately though we've been coming on, it just depends on if the guys show up to play or not."
With the team having the home ice advantage for this tournament, Robert says they should have a lot of strong support from their fans.
"I think you're gonna get some of the alumni guys from years prior and the parents, we'll see some of them come out. The Royals have a pretty extended family, once a Royal you're always a Royal and there's heavy support from people who have gone through the system."
The winner of the tournament will play a best of three series against the winner of the other regional tournament for the NAHL's Rural Conference. The winner of that series will go to the Midget AA Provincials in Calgary.
– Kyle Moore, Trending 55 Newsroom