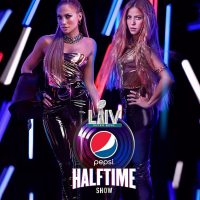 Jlo and Shakira are playing Super Bowl LIV!
The singers shared matching photos of each other to their social media pages announcing the performance. "This is happening. ???? 02.02.20," Lopez captioned her cropped photo of Shakira. She is wearing gold with a Pepsi logo on her arm.  Shakira shared a matching pic of Jennifer, also featuring the Pepsi logo, along with the caption, "Get ready ???? 02.02.20."
Pepsi and the NFL then confirmed the news via Twitter, followed by more photos that feature both artists and the official Half Time announcement.
Thinking about how much energy will go into this show makes me incredibly tired.
View this post on Instagram
View this post on Instagram