Calvin Hector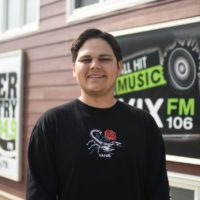 Hey there! I'm Calvin Hector.
I was born in Calgary, Alberta and moved to British Columbia during the 2013 floods.
I'm a big time sports fan and have participated in many athletic activities. In the winter I enjoy hockey and the rest of the year is golf season (I'm a "pro"). My hockey loyalty is with the Calgary Flames and I'm ready to take my lumps for being in Oiler country.
While in BC, I worked for a Junior A hockey team filling many roles such as in rink host, colour commentator, and p.a. announcer.
I recently completed the Radio, Television, Broadcast News program at the Southern Alberta Institute of Technology and am excited to begin my broadcasting journey in Peace River.
PS – I'm also a member of the Trending 55 news team!

Just when you thought Social Media was running out of new ways and ideas to get people to post or share their every sight, sound and thought, sunglasses have now come into the fold. Snapchat has Spectacles
Continue Reading »

Technically Summer doesnt officially end until September 22, 2021. I understand business, especially e-commerce, shift their seasonal focus early to try and get a jump in sales and give customers what they want for when they need
Continue Reading »

Right off the hop I will mention….I own an abundance of apple products. iPhone 12 Pro Max in hand or pocket, iPad Air2 for when i'm too lazy to sit in front of the T.V., Apple Watch
Continue Reading »