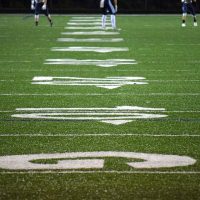 Several athletes from the Peace region will be vying for a spot on "Team North" for the upcoming Senior Bowl All-Star game.
The Selection Camp for the prospective Northern all-stars competing in the upcoming Senior Bowl High School Football All-Star Game will take place this weekend at Foote Field in Edmonton, with players from across Northern Alberta looking to earn a spot in the 30th annual event.
This weekend's camp will feature 150 of the top graduating Grade 12 athletes in Northern Alberta, with the announcement of the Northern All-Stars roster to take place on Monday, April 15th.
Here's the list of the local athletes taking part in this weekend's selection camp:
WR Evan Gladue — High Prairie Renegades — 6'2, 175 pounds
QB Zachary Carter — Peace Wapiti Academy Titans — 6'8, 180 pounds
RB Jacob Sandul — Peace Wapiti Academy Titans — 5'11, 175 pounds
DL Riley Pillsworth — Grande Prairie Warriors — 5'11, 270 pounds
DL Hunter Howrish — Sexsmith Sabres — 5'10, 192 pounds
DB Rhys Fournier — Sexsmith Sabres — 6'6, 195 pounds
The game featuring the top High School football players in the province will be held on Monday, May 20th at Hellard Field in Calgary.
–Alex Rodgerson, Trending 55 News