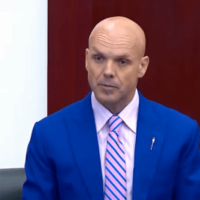 Slave Lake Council is asking Pat Rehn to step down. 
While the Lesser Slave Lake MLA's trip down south was referenced, the town says in a public letter to Rehn that it believes it is not being represented. 
"However, since the April 2019 election, it has become clear that the hard work that you put into campaigning for the position of MLA has not continued since being elected. We have several grievances with your performance, but here are a few listed below.  
  Shortly after you were elected MLA, you decided to no longer reside in the constituency.

  Lack of time spent in the constituency engaging with residents and elected leaders. In fact, you have yet to even meet with some of the Region's elected leaders.

  Since your election, you have spent more physical time managing your business in Texas than being physically present in our Region.

  Multiple missed meetings and lack of preparation for meetings that do happen.

  Missing a meeting with local leaders and the Justice Minister (regarding a spike in local crime) so that you could attend an oilfield expo in Fort McMurray for your business.

  Meetings that do happen are typically a "re-education" of the last meeting we had, as it is apparent that you do not read the

material

 we send you.

 

  Missed a meeting with the Housing Minister for a $4 million housing project that has been years in the works, but again, you could not be bothered to show up on our behalf to help move the project forward. This meeting was scheduled by your government."
You can see the full letter from the Town of Slave Lake to Rehn here. 

Rehn responded with a statement of his own, saying that he does have a residence in Slave Lake and Edmonton as well.  

On his Facebook page, Rehn says he owns no properties in Texas whatsoever and that his businesses have all been disclosed to the Alberta Ethics Commissioner. 

He added that he travelled to Texas to deal with essential business matters within the last year but was fully compliant with all public health regulations.  

"It is the honour of a lifetime to represent a region I have lived and worked in since I bought my first quarter-section of trees and also my first sawmill in Wabasca using every penny I had in the bank. I will continue representing Lesser Slave Lake – the region I love and call home." 

You can see Rehn's full statement here. 

While Rehn is under fire for taking a trip to Mexico, no other elected officials have expressed any frustrations with him. 

On July 22 while making a members' statement in the legislature, Rehn talked about helping Big Lakes County secure around $900,000 for bridge work, as well as funding for various projects he helped get funded for the East Prairie and Gift Lake Metis Settlements. East Prairie got around $3.2 million, while $2.8 was earmarked for Gift Lake. 

– Kenny Trenton, Trending 55 Newsroom

Tags: