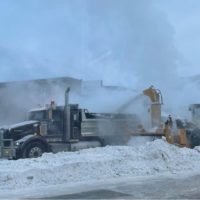 Crews in the town of Peace River are continuing with snow removal.
Starting at 7:00 Thursday morning, and starting at 3:00 Friday morning, crews will work on North End streets, as well as on downtown streets.
Specifically,
On Thursday morning,
The North End (98 Street, from Glenmary School to Good Shepherd School)
Downtown area (101 Street, from 96 Ave to 100 Ave, 99 Ave., from 101 Street to 98 Street, Alleys)
South End Priority One Lower Route
On Friday morning,
The North End (86 Ave. to 90 Ave.)
Downtown area (98 Ave., from Main Street to 98 Street, 94 & 95 Ave., 102 Street (behind River City Cinema))
South End Alleys
Town administration is appreciating that no vehicles be parked on the street during snow removal times.
Keith Hopper, Trending 55