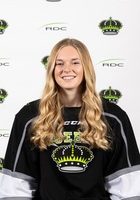 Spirit River hockey player Tessa Ross says her first season at Red Deer College has been going well for her.
Ross previously played at the Edge School in Calgary and says the culture there was "really welcoming"
"Especially being so far from home and they had a great program with the mixture of school and hockey as a combination. It really helped me grow. I also had a coach, Carla MacLeod who was a former Olympian, she really helped our team advance and was very knowledgeable."
Ross also believes that the women's game is still growing despite the lack of a stable professional league.
"I think eventually they will be able to form one united league so it'll really help women's hockey develop as a whole. I think there's steps being taken with the NHL as well that will really help prosper women's professional hockey."
You can check out our full interview with Ross below.
– Kyle Moore, Trending 55 Newsroom.