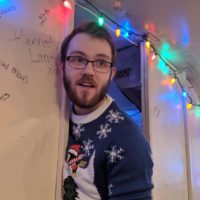 For me at least. Don't worry, this isn't a grinch post. Just sharing about my very weird family who I love.
I know for many folks out there, Christmas is a magical time full of all sorts of important family traditions. I've actually been lucky to experience this second hand through an ex-girlfriend of mine. Without her, I don't think I'd fully grasp how significant the holiday is for some folks. It can really be a big deal! But for me and mine, I'm not really missing much this year.
My family is… Chill. I think that's the best way to put it. My parents have a very laissez faire take on most things. It's not like we don't care about anything, just maybe we prioritize giving each other space more than some families I've observed. My extended family lives in Ottawa and England so when we're at home for the holidays it's just another day with my sister and parents. Not a lot different from any other day of the year to be honest. We open presents in the morning, have a nice dinner, when I was younger we'd watch the Dr.Who Christmas special but in the past 5 years we've gone to see movies on Christmas day (did you know theaters stay open on x-mas? Like Chinese food I guess.). That's about it. After presents are open, it usually just goes back to doing whatever we normally do.
That's why this year I'm personally not too broken up about spending it by myself in Peace River. I'll cook myself a nice dinner, open some Magic: The Gathering packs I bought myself for the day, probably finish watching The Mandolorian.
But for other people I know this is not the case, and for them I hope you manage to find the magic you're expecting to miss. It's been a crap year, and cancelling Christmas is just another crap thing to add to the pile. We'll all see each other again soon. Just be patient, be safe, look out for yourself.