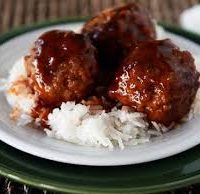 You can tell a recipe is super easy, because I'm telling you to make it. It's so easy in fact, that I seriously messed it up this weekend and it worked out well anyway. Literally foolproof.
We're making sweet and sour meatballs. If you don't know anything about meatballs, the real key to success is not measuring anything and just kinda seeing what happens. Which I say partly because it's true and partly because I don't actually have the measurements for this recipe so we're pretending it's intentional.
you need:
ground beef
quick oats/flour/breadcrumbs
eggs
soy sauce
You also need:
more soy sauce
balsamic vinegar
brown sugar
lemon juice
onions
garlic
how to meatball:
1. preheat oven to 450. Mix the beef, and approximately 1/4 as much oats as you have beef. Mix in 2 eggs, and a light splash of soy sauce. Then you get to mix it up real good with your hands and it's a lot of fun.
2. Form them into meatball sized balls, lay them out on a tray and throw them in the oven for ~15-20.
How to sauce:
 Saute the onions and set aside.
This part is really just experimentation. Mix all sauce ingredients. Bring to boil, then taste and add ingredients until it tastes good. I know thats not helpful but beauty is in the eye of the beholder. You probably need more brown sugar than you think, and less soy than you think as well.
once it's good, add the onions.
Move the cooked meatballs into a deep dish, then pour sauce on top. Stick em back in the oven for ~10 minutes.
That's it! Serve with rice.
Credit to Marieka and her mom, Judy, for proving how good throwing random improv into meat tastes.