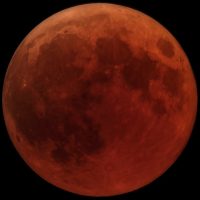 A Super Moon Lunar Eclipse is taking place this Sunday.
Its going to be bigger than usual, and will be quite the sight if the weather is clear.
It is set to begin at 8:30 Sunday Night… reach total eclipse from about 9:40 to 10:40… and then recede til close to midnight.
As of Tuesday, the forecasts around Northern Alberta show somewhere between clear and partly cloudy, but of course a lot can change in the next 5 days.