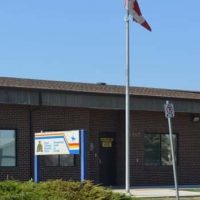 SWAN RIVER — A 15-year-old female resident of the Swan River Reserve has been charged with Manslaughter and Arson with disregard for human life.
The charges were laid following a police investigation of a recent residential trailer fire in Swan Hills, which would result in the death of one adult woman.
The trailer fire would occur on April 23rd, sparking the investigation led by the RCMP Major Crimes Unit in conjunction with the Lakeshore Regional Police and Peace River RCMP Forensic Identification Section.
Results of the investigation revealed that the cause of the fire was Arson.
In consultation with the Office of the Chief Medical Examiner, it was determined the victim of the fire died as a result of smoke inhalation, which has resulted in the 15-year-old suspect being charged with the Manslaughter and Arson offences. She has been released from custody and is scheduled to appear in Provincial Court in Slave Lake on July 10th, 2019.
It's also noted that neither the name of the accused nor the victim will be released.
–Alex Rodgerson, Trending 55 News