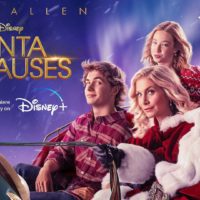 Disney+ has the debut of the limited series The Santa Clauses continuing the story of The Santa Clause which will star Tim Allen. The plot of the episode series is Scott Calvin is on the brink of his 65th birthday and realizing that he can't be Santa forever. He's starting to lose a step in his Santa duties, and more importantly, he's got a family who could benefit from a life in the normal world, especially two sons, one that grew up in Lakeside, Illinois and one that grew up at the Pole. With a lot of elves, children, and family to please, Scott sets out to find a suitable replacement Santa while preparing his family for a new adventure in a life south of the pole.
Today they released the first 2 episodes of the show which will feature many returning cast members from the trilogy of movies while adding Kal Penn and Laura San Giacomo to the cast and even will have Peyton Manning in a small cameo.
If you are looking to get yourself into the Christmas spirit this show will get you to mid-December.
-Everett