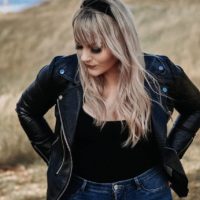 Once upon a time there was a woman who suddenly found herself single during a global pandemic. What did she do? Well she did what anyone would do, she signed up for Tinder.
I've only been using Tinder for a couple months but it's been a helluva adventure. If you're a frequent listener to my show, you've probably heard a bit about it. The best part of Tinder has been the endless entertainment; sending screen shots of the most absurd accounts to my bestie, swiping right just to poke a little fun at someone or ask a question about something bizarre in their bio. Have I found love? No of course not, it's Tinder. Has it been fun? Absolutely.
Today I swiped right on a little Greta Van Fleet wannabe so I could ask if his friend(bandmate) would let me borrow his crop top. I can't say I was surprised by his response, "he'll give it to you if you give us a spin on the radio".
Tinder, the next big thing in NETWORKING.
But imagine my surprise when these kids were actually pretty good.
King Bull at Peacefest 2021? Can we make that happen?
Also, I call him a kid but hes 25 – I'm not totally gross.