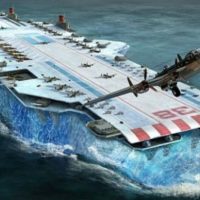 Did you know there's an honest to goodness ww2 era shipwreck in Alberta? There is.
And you're saying "Robert, you know Alberta is a landlocked province right?" And I'm here to say yes I do. And the story is actually way more unbelievable than that.
I'm talking about Project Habbakuk.
If you want to hear the whole story, I highly recommend you read/listen to the story from THIS ARTICLE of 99 Percent Invisible.
But if you want the abridged version, here it goes.
During ww2, the battle in the Atlantic wasn't going as well as it could be (to put it lightly). A confluence of factors were really pushing the allies to their limits. They were willing to try anything. Enter Geoffrey Pyke. An inventor with an idea.
Steel and metal were scarce, and they needed a ship which could withstand German attacks. So what if we made a boat out of ice?
Yes I said ice!
If you wanna get specific, we're actually talking about pykrete. Which is a mixture of wood pulp and water, which when frozen will stay frozen much longer than pure water, and is reinforced by strong bonds, making it harder than steel.
But it all makes sense right? Water is all over the place! If you need to fix your ship, just use the water. It's the perfect plan!
Somehow this insane plan was approved for testing, and a prototype was built on Lake Patricia. Right here in beautiful Alberta!
Unfortunately, once they actually got to making the prototype they realized it would take a lot more steel than intended. Combined with the reduced need for such a ship due to new airstrips and longer range fuel tanks making planes lives easier and less reliant on aircraft carriers, this meant the project was scrapped.
They simply left the ship in the lake to melt. It took three summers.
Now you can go visit the site of the ship at the bottom of Lake Patricia. If you're a scuba diver, there's even a plaque at the bottom commemorating the site.
– Robert Hill.