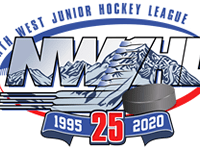 The calendar moving to 2020 means the NWJHL season will resume this week.
All six teams have about 15 games left on their schedules for the regular season which ends on February 16.
After that, the playoffs will commence with the league champions getting a berth in the Alberta Junior B Provincials happening April 2-5 in Medicine Hat.
NORTH PEACE NAVIGATORS
The Navigators currently sit in second place in the league standings with 33 points.
High Prairie's Robert Lemay has lead the Navs offence with 15 goals and 30 points on the season.
They're at home against Sexsmith on Friday, before visiting Fairview on Saturday.
FAIRVIEW FLYERS
The Flyers are in third place, just two points behind the Navs.
Nampa product Eric Dentinger is their top scorer with 17 goals and 32 points.
Fairview will visit Dawson Creek on Friday before they host the Navigators on Saturday.
SEXSMITH VIPERS
Down at the bottom of the standings are the Vipers who have won just four games this season.
One bright spot for them is Jordan Bartlett, the Grande Prairie product leads them in scoring with 16 points.
The Vipers have two road games this week, Peace River on Friday and Fort St. John on Saturday.
GRANDE PRAIRIE KINGS
The Kings currently occupy the number five spot in the standings.
Their leading scorer is Blake Gillingham with 22 points.
Both of their games this week are in BC, Fort St. John on Friday and Dawson Creek on Saturday.
DAWSON CREEK CANUCKS
The Canucks sit in fourth place, but are only three points behind third place Fairview.
The top scorer in Dawson Creek is Mason Mcleod with 25 points.
They'll begin 2020 with home games against Fairview and Grande Prairie.
FORT ST. JOHN HUSKIES
The Huskies have a somewhat comfortable lead for first place, seven points ahead of North Peace.
Fort St. John forward Gary Loewen is the top scorer in the NWJHL with 40 points.
They'll look to continue their winning ways as they host Grande Prairie and Sexsmith this week.
– Kyle Moore, Trending 55 Newsroom