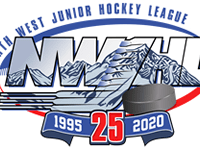 Not even the NWJHL is safe from the wrath of mother nature.
The game on Saturday between the North Peace Navigators and the Fort St. John Huskies had to be postponed because of mechanical issues with the Navs bus.
No word yet on when the game will be rescheduled.
NORTH PEACE NAVIGATORS
The one game the Navs did play last week didn't go their way.
They lost 4-3 at home to the Grande Prairie Kings despite multi point games from Peace River's Dawson Gour and High Prairie's Keegan Ferguson.
This week they'll have home games against Fairview on Friday and Dawson Creek on Saturday.
FAIRVIEW FLYERS
The Flyers still remain in fourth place in the standings.
Fairview lost 5-4 in overtime to Dawson Creek on Friday before getting an 8-4 on Saturday in Sexsmith.
They will go on the road this week for two games, they're in Peace River on Friday and Fort St. John on Saturday.
SEXSMITH VIPERS
The Vipers are still winless in 2020.
Their most recent setbacks were 10-0 against Fort St. John and 8-4 against Fairview.
Sexsmith will face Grande Prairie in a home-and-home set on Wednesday and Friday.
GRANDE PRAIRIE KINGS
The Kings ended up splitting their two games last week.
Grande Prairie got a 4-3 win over North Peace on Friday before falling 4-1 to Dawson Creek on Saturday.
They will be busy with three games this week, a home-and-home with the Vipers on Wednesday and Friday before hosting Dawson Creek on Sunday.
DAWSON CREEK CANUCKS
Dawson Creek has started the new year strong with four straight wins.
They got a 5-4 OT win in Fairview and got a 4-1 win over Grande Prairie.
This week the Canucks will face Fort St. John on Wednesday before having road games on Saturday and Sunday in Peace River and Grande Prairie.
FORT ST. JOHN HUSKIES
Thanks to their postponement on Saturday, the Huskies only played once last week.
They went into Sexsmith and won a 10-0 blowout over the Vipers.
The Huskies will look to continue their winning streak when they visit Dawson Creek on Wednesday and host Fairview on Saturday.
– Kyle Moore, Trending 55 Newsroom