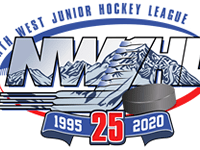 The NWJHL season is reaching the halfway mark.
All six teams are getting close to the game number 20 on their 40 game schedules.
Let's look at what all the teams did during the past week.
NORTH PEACE NAVIGATORS
The Navs were the busiest team playing three games in four nights.
Things started well winning 7-1 over Sexsmith on Wednesday and 4-3 over Fairview on Friday, but they lost 2-1 at home to the Flyers on Saturday.
They have just one game this week, they'll be in Sexsmith on Saturday.
FAIRVIEW FLYERS
The Flyers ended up splitting their home-and-home set with the Navs.
Fairview lost 4-3 at home on Friday but got a 2-1 win in Peace River on Saturday.
They have two homes coming up this week, Fort St. John on Thursday and Grande Prairie on Saturday.
SEXSMITH VIPERS
Wins are still hard to come by for the Vipers.
Losing 7-1 to North Peace on Thursday and 7-4 to Fort St. John on Saturday keeps them stuck in the basement.
Sexsmith will visit Grande Prairie on Thursday before coming home to play the Navigators on Saturday.
GRANDE PRAIRIE KINGS
Another struggling team is the Grande Prairie Kings.
They lost their lone game of the week, 6-1 to Dawson Creek on Friday.
The Kings will be at home to Sexsmith on Thursday before going on the road Saturday to Fairview.
DAWSON CREEK CANUCKS
The Canucks remain in the middle of a logjam near the top of the standings.
A 6-1 win over Grande Prairie keeps them tied with North Peace for second place and are three points out of first.
They'll face the Huskies in an all-BC match-up on Saturday.
FORT ST. JOHN HUSKIES
The Huskies are still on top of the NWJHL standings.
They won their only game, 7-4 over Sexsmith on Saturday.
They have two games coming up this week, in Fairview on Thursday and at home to Dawson Creek on Saturday.
– Kyle Moore, Trending 55 Newsroom