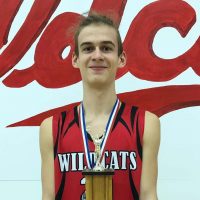 Gavin Wasylciw has been named the Tim Horton's Athlete of the Month for the month of April.
Gavin is a 14-year-old student at Worsley Central School, and also a member of the Worsley Jr. Wildcats basketball team. Born and raised in Grande Prairie, Gavin recently played a key role in the Jr. Wildcats gold medal victory at the 2019 Alberta Youth Provincials in March.
During their gold medal run at the 2019 provincial tournament in Edmonton, Gavin and the Jr. Wildcats would defeat Slam Forrest and Southwest Bagshaw, before earning a 57-53 victory in the finals against the Calgary Running Rebels. In addition to the Jr. Wildcats gold medal victory, Gavin would also take home a one hundred dollar scholarship courtesy of Tangerine for his solid play.
Gavin first picked up Basketball when he was in the fourth grade, and has been playing ever since. Gavin says improving as a player and pushing through obstacles are some of his favourite things about the sport, and notes his commitment to getting better.
Gavin was also a participant in the 2018 Alberta Summer Games.
The Jr. Wildcats centre noted the experience in conversation with Trending 55 News, saying one of the most positive experiences of the games were being able to new a lot of new people and learn a lot of new things.
When describing his style of play, Gavin says he's more of an inside shooter, which means he spends a lot of time in the paint and takes mid-range shots. Currently in his final year of Junior High, Gavin balances school and athletics by always ensuring he can get his work done either at school or on the drive to practice – which for him is a two hour drive.
Gavin says he plans on continuing to pursue Basketball throughout High School, which he hopes can lead to University athletics and a better education for himself in the future.
Congratulations, Gavin!
–Alex Rodgerson, Trending 55 News