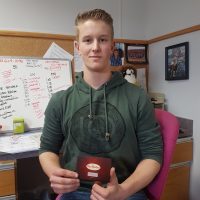 The Tim Horton's Athlete of the Month for April is Rhys Winder of Glenmary School in Peace River. Rhys was nominated by his coach for being a leader both on and off the basketball court, and he currently plays on the GPRC all-star basketball team.
Rhys says he's been a sports fan since he was young, playing baseball up until he was in grade 6, then moving onto football. During his time playing pioneer football, he won the league top D lineman of the year.
"Sports has been a part of my life ever since I was young, and it will be for as long as I can play," says Rhys.
Rhys plans to try out for the Edmonton Huskies and the Senior Bowl, which is a team made up of the best players in Northern Alberta.
Congratulations Rhys, and good luck on your tryouts.