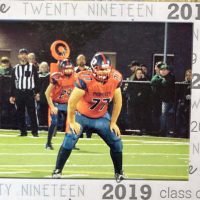 Rom Rhoad has been named the Tom Hortons' Athlete of the Month for July.
Rom is a graduating grade twelve student at Grimshaw Public School, and a soon to be member of the University of Alberta Golden Bears football team. At 6'5″ and 295 lbs (while still growing), Rom is an imposing force at the offensive guard position, which he's anchored for the Peace River Pioneers for the last two years. He attributes his very first game playing for the Peace River Pioneers, as the moment he gained a love for football.
After playing his high school football with the Pioneers, Rhoad would then be offered a scholarship to the University of Alberta, before the U of A's annual spring try-outs would even begin. When I asked Rom about his thoughts about joining one of Canada's top universities, he admitted to being a little nervous.
"To me it's pretty exciting, and to be honest I'm a little nervous about it." said the 6'5″ Guard. "I'm going to put everything I have into it."
A multi-sport athlete, Rom also has a talent for the game of Basketball, which he has also played throughout high school with Grimshaw Public. Despite his 295-pound frame, Rom is extremely mobile. He then spoke about how playing basketball has helped his agility on the grid-iron.
"You have to move your feet a lot," said Rhoad. "There's a little more of that in Basketball."
U-Sports, and specifically Canada West competition, continues to be a stepping stone for many athletes looking to make their way to the Canadian Football League. As shown in this passed year's CFL draft, a large amount of collegiate/university players would be selected, including the University of Alberta's Jonathan Harke.
Despite his love for the game, Rom still understands the importance of education, and added in conversation with Trending 55 that he plans to study history, archaeology, languages and sciences. The former Peace River Pioneer also spoke about his future goals, and while not ruling out continuing with football, noted that education will be a main priority for him.
Rom has been gifted with a variety of talents, but also understands that there's always more improving that can be done. When it comes to getting ready for the Golden Bears first practice in August, Rhoad says that he's been doing more weight-training and running, in order to be in the best shape possible.
Congrats Rom, and good luck this season!
–Alex Rodgerson, Trending 55 News