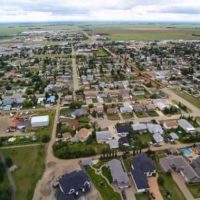 FAIRVIEW — The Town of Fairview has released new details regarding their 2019 paving projects.
This year, several new paving projects have been discussed by Fairview council as the town has set aside $800,000 for a total of four projects. The town had recently taken bids regarding their big ticket project — this being the 108th street project — with the lowest available bid coming in at $475,000.
The other three projects come in at a lower price, starting with the 110th Street. For this project crews would be performing milling and overlay of the 110th Street entrance from Highway 2 to the 101st Avenue intersection. The estimated cost for the survey, milling and paving is $86,000.
The next project would see the repair of 118th Street. The goal for this project would be to pave the street connecting to Highway 64A to 101st Avenue, passed the Fire Hall and Prairie Coast Equipment. Estimated cost the gravel, shaping and paving is $83,000.
The final project would see the paving of the turning lanes on the service road that goes East and West of 110th Street south of the A&W and Husky. Estimated cost the base preparation and paving is $84,750.
In total the four projects would be estimated to cost $728,445.
–Alex Rodgerson, Trending 55 News