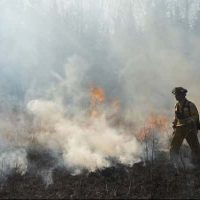 LESSER SLAVE LAKE — There were two new wildfire starts last night in the Slave Lake Forest Area.
The first new wildfire is located north of Gift Lake, and is currently being held as firefighters are now working to extinguish it. The other, slightly larger fire is located south of East Prairie and is also being held, as firefighters are now beginning containment procedures. The Gift Lake fire is listed at 0.01 hectares, while the East Prairie fire is estimated at 0.1 hectares.
The fire that was discovered on Tuesday near Lubicon Lake has now been extinguished, while another blaze discovered back on June 9th has now grown to 153 hectares in size. The fire is located 1.3 kilometres west of the Chip/Alpac Road — at approximately kilometre 45 — and is currently classified as out of control.
Of the four wildfires in the McMillan Complex, two are under control and two are classified as out of control. Firefighters have continued to make good progress fighting these wildfires, as at this time firefighters have laid over 120 kilometres of hose.
The massive wildfire northeast of Slave Lake is now listed at approximately 262,009 hectares and is still classified as out of control, though as of Wednesday officials announced the fire has been 50% contained. As of today firefighters remain on the eastern side of the fire, to the west of Bigstone Cree Nation and Wabasca, continuing to extinguish fires within the perimeter.
Structure protection remains in place in the communities of Trout Lake, Wabasca, and Bigstone Cree Nation. Since the start of wildfire season on March 1st, there has been 105 wildfires and 264,008 hectares burned in the Slave Lake Forest Area.
–Alex Rodgerson, Trending 55 News