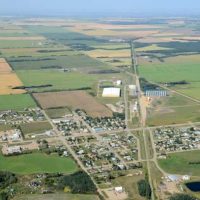 NAMPA — It's been determined that the Sewer Lift Station in Nampa will need to undergo repairs.
After issues were reported with the Sewer Lift Station constantly plugging in recent weeks, public work crews in Nampa were brought in to attempt to correct the problem. However, despite their best efforts, public work crews could not correct the problem.
As result, the Village of Nampa was forced to call in representatives from the company Xylem, who had originally supplied the gear for the station. Upon their inspection, it was determined that the main chain was not properly connected on pump #1.
In addition to this it would be determined that the chain link connecting the master link to the chain on pump #2 is worn out, with the method used to pull the pumps being noted as dangerous.
The company has suggested that Nampa obtain a hoist with the proper length of chain to reach the pumps below, while installing a chain hook and allowing pumps to be pulled in one continuous motion.
Xylem also notes that the Sewer Lift Station's control panel is over thirty years old, and though it is still operational, it will need to be replaced soon. The company also adds that there is no backup system should the sensors defect. According to Xylem, regular maintenance on the Sewer Lift Station has also not been completed in quite some time.
–Alex Rodgerson, Trending 55 News