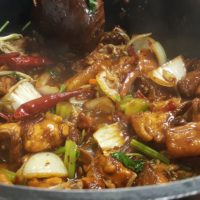 You know how everyone loves to complain about the rambling preludes to online recipes? About how they just want to read the recipe and don't need to hear a 1000 word essay about this recipe being handed down by their ol' grand pappy Jim?
I think that's a fair criticism but I also think that way of thinking runs the risk of forgetting one of the most important parts of cooking: Culture.
Food and culture are inseparably linked. So when it comes to those essays people write about how much the food means to them and why they think the story is important, we're really doing ourselves a disservice if we ignore it every time.
(Some of them are really boring and useless though. We don't have to read every one).
So all that being said, I really enjoyed this video about Shenzhen Chicken Pot. They talk about the history of the city of Shenzhen, why things are the way they are, and really give context to how culture effects food and vice versa.
This is a recipe my buddy Mike talks about all the time, so I was very interested to learn a bit of the history. Check it out and let me know if you try the recipe!
– Robert Hill