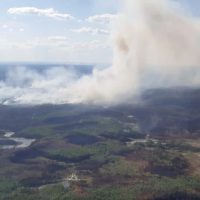 MACKENZIE COUNTY — Officials battling the Chuckegg wildfire are advising Mackenzie County residents to be wary of airborne embers and to also expect falling ash.
The recent temperatures accompanied by unpredictable winds have caused fire activity within the Chuckegg wildfire to intensify. Winds were steady all throughout last night, with officials adding that humidity is dropping rapidly. They anticipate crossover conditions and more aggressive fire behavior this afternoon. The out of control wildfire made another run last night on it's northern side, continuing to burn all night.
It's also now estimated to have consumed 276,212 hectares.
The new edge of the fire is about 17-18 km from Devil Lake, and about 22 km west of the river directly west of La Crete. With south winds shifting between SE and SW, even more growth is expected for today, along with substantial smoke.
Aerial ignition is taking place today along the north side of the Peace River to remove vegetation, and prevent the potential for spot fires across the river and into Blue Hills. Crews had been previously unable to complete ignition burning as conditions would not allow it. As conditions allow, crews will continue burns on the west side with the additional intent to shade out the east side of the fire and reduce the intensity of the burning this afternoon.
Today is noted to be an extremely challenging day for firefighters and officials are reminding residents to be aware and alert at this time.
–Alex Rodgerson, Trending 55 News