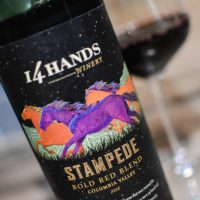 Happy Wine Wedneday, friends! This week's featured wine from Barrel Wine 'n' Spirits is the Stampede Bold Red Blend from 14 Hands Winery. This is a winery in the Columbia Valley of Washington.
This red blend is predominantly Syrah and Merlot. Barrel aged in mostly neutral French and American oak for nearly 2 years.
From their website: "This robust red blend kicks things off with aromas of spice and cedar, leading to flavors of cola and cherry. A lighter oak regimen shows off the wine's unique characteristics, including lively acidity and a dramatic enduring finish."
I think it was the "flavors of cola and cherry" that really intrigued me most about this wine. It smells absolutely amazing. Definitely a nice spice/warmth to it. Very smooth.
13.5% alcohol content
-Kelsey