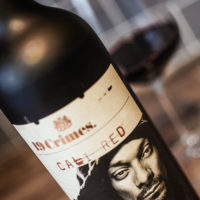 Happy Wine Wednesday, friends! This week's featured wine from Barrel Wine 'n' Spirits is the Cali Red from 19 Crimes.
19 Crimes is a really cool line of wines, each bottle features an infamous criminal and when you scan the bottle with your phone, it will tell you the story of their crimes.
from their website: "It's the Industrial Revolution, people were increasingly moving to cities, prisons were overcrowded, and petty crime was on the rise. After the Revolution of 1776 prevented transportation to America, Queen Victoria decided banishment to Australia would solve these problems.
Between 1788 and 1868, 165,000 convicts made the long voyage by sea to Australia. Times were tough for criminals, but these individuals were tougher. They survived the boat ride and the exile. Now their stories survive into the 21st century with 19 Crimes."
The Cali Red is a collaboration with rapper Snoop Dogg.
"19 Crimes is defiant by nature, bold in character, and always uncompromising. We are proud to partner with entertainment icon, Snoop Dogg, who embodies all these qualities, and more, through hard work and perseverance. Snoop Dogg is a culture creator, innovator, and a leader in pop culture."
Also from their website, about the wine: "Full and dense, with strong black & blue fruit notes up front from the Petite Sirah, complemented by bright red, slightly candied fruit in the background from the Zinfandel. The darkly toasted oak ties it all together along with a slightly sweet finish."
This wine is very flavourful, pretty fruity (definitely taste blackberries), smooth, and just a little sweetness.
This wine is hard to find but lucky for you, you can get it at Barrel Wine 'n' Spirits.
Drink it like it's room temp. Is that funny?
-Kelsey