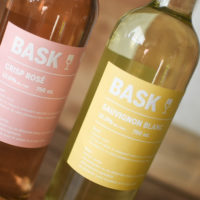 Happy Wine Wednesday, friends! This week's Wine Wednesday is a Double Feature! Bask is a Canadian wine, new on the market. Full Flavoured wines with 0g of sugar.
This week I tried the Rose and Sauvignon Blanc
Both wines are very fruity and flavourful. Their rose is quite sweet, with strong flavours of strawberry. The Sauvignon Blanc is citrusy and tropical.
You can check out this previous week's Wine Wednesday for their Pinot Noir.
Try the full line of Bask Wines, available at Barrel Wine 'n' Spirits in Peace River.
Enjoy Responsibly, friends.
-Kelsey