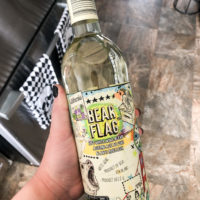 Happy Wine Wednesday, friends! Each week I will be sharing what I am uncorking. I'm going to start off this new feature with one of my absolute favourite white wines; Bear Flag Soft White Blend.
This is a wine from California produced by E. & J. Gallo Winery. It is a blend of Chardonnay, Colombard, Muscat, and Sauvignon blanc. This is one of my favourite wines because it's not dry but I also don't find it to be too sweet and it is very, very smooth.
I've also had the Bear Flag rose and it's wonderful as well, although I haven't been able to find it as easily. The red blend is what I reach for when I am in the mood for a red (I drink it with ice, if it's good enough for Diane Keaton it's good enough for me).
– Kelsey