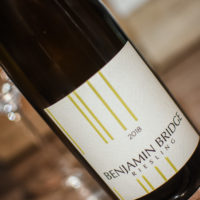 Happy Wine Wednesday, friends! This week's featured wine from Barrel Wine 'n' Spirits is the Riesling from Benjamin Bridge.
Benjamin Bridge is a winery in Nova Scotia and their website has this to say about their riesling:
"…hints of key lime and beeswax are amplified by light chamomile undertones. On the palate, a myriad of zesty citrus notes expands into a richer texture with lingering suggestions of fresh green apples and tart cherries…"
I would definitely call this white wine "zesty". It is citrusy and tarte, definitely taste green apple. Very flavourful.
Low alcohol content at just 10%
Pick up a bottle today at Barrel Wine 'n' Spirits
-Kelsey