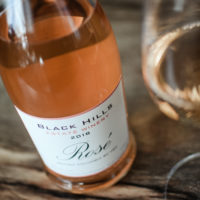 Happy Wine Wednesday, Friends! This week's featured Barrel Wine 'n' Spirits wine is the rose from Black Hill Estates.
Black Hill Estates is another winery located in British Columbia.
Off their website: Pale copper in colour, the 2018 Rose shows fresh watermelon, strawberry and peach aromas. Layered on top of the fruit aromas are subtle creamy and vanilla notes, developed during the wine's maturation on its yeast lees. There is a hint of rhubarb on the palate, and a savoury herbal note adds another dimension. This medium-bodied rose has a silky texture and crisp juicy acidity, and peach flavours continue throughout the finish. This wine is best served chilled and in its youth
In my amateur opinion: This rose is flavourful and aromatic. Lightly crisp with a slightly buttery after taste. This rose really stands out to me because of the very present notes of watermelon.
The Black Hills Estate rose has an alcohol content of 11.8%
-Kelsey