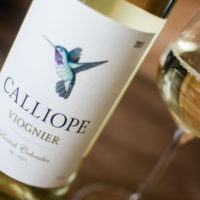 Happy Wine Wednesday, friends! Another Canadian wine this week from Calliope Wines.
Grapes for Calliope wines are sourced from vineyards in the South Okanagan and Similkameen Valleys.
From their website: A pretty, very floral nose showing jasmine, honeysuckle and orange blossom backed up with lots of white peach and the freshness of preserved lemon. The palate is full-bodied, rich and intensely flavoured with ripe red peach, mango, papaya, ripe apricot, more honeysuckle and some zestiness of ruby grapefruit on the long finish.
As amateur as my wine reviews are I usually have SOMETHING to say about a wine but this one kind of stumped me. I think there is a strong focus on the floral notes so it's definitely different from the citrus flavours that I typically enjoy in my white wines. It was smooth and enjoyable but it didn't particularly stand out to me. That's the great thing about wine though, it's totally subjective! You could absolutely love this one who TRY IT! It's Wine Wednesday, try something new.
This viognier has an alcohol content of 13.5%
-Kelsey