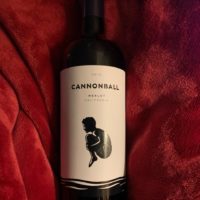 "The Cannonball is the perfect symbol of freedom. Legs tucked beneath you soaring through the air – that uninhibited spirit is the soul of Cannonball wines. The Cannonball icon is a symbol of your inner child, a time when life was carefree and all about having fun. Cannonball wines will make you smile and remind you to not take life too seriously."  That's from www.drinkcannonball.com.
This Cannonball wine has a real kick.  Lots of flavours hit the palate, making it feel like drinking  a blend.
"Medium ruby in color showing a bouquet of cherry and black tea accented by subtle sweet vanilla French oak and a fetching blueberry compote note. The palate is generous and soft on approach, leading with supple cherry fruit and transitioning to richer boysenberry flavors on the mid-palate where the medium-firm tannins, caramel, and notes of clove and black pepper come into play. The vintage's fresh acidity lends structure to this silky expression of Merlot leaving a lingering, savory finish.
Enjoy with red meats, duck, and pasta with rich sauces."
p.s. The prettier half says that she would try this wine with a smoked gouda… because it would be really gouda!
-Damien Gnass, The Morning Wheelhouse