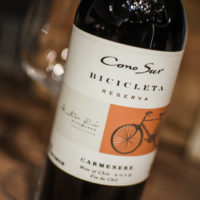 Happy Wine Wednesday, friends! This week's featured wine from Barrel Wine 'n' Spirits is a carmenere out of Chile.
The Cono Sur winery is committed to sustainable wine-making. From their website: "Cono Sur has been deeply committed to the development of its environmental policies, believing that high quality wine production can work hand-in-hand with eco-friendly practices. Over the years, we have implemented a clean action plan, which embraces our natural vineyard management, organic production, ISO certifications and balancing our CO2 emissions through our CarbonNeutral® delivery status."
Makes me like their wine even more.
This carmenere is a very bold red. Smooth and a little spicy. Wouldn't recommend this one if you are just starting out in red wines but if you are an avid red drinker, definitely stop in at Barrel Wine 'n' Spirits to check this one out.
-Kelsey