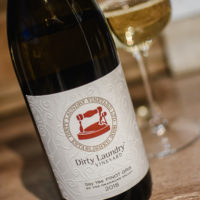 Happy Wine Wednesday, friends! This week's featured wine from Barrel Wine 'n' Spirits is the 2018 Say Yes Pinot Gris from Dirty Laundry.
Dirty Laundry Vineyard is located in the Okanagan Valley. This Pinot Gris is sourced from Summerland.
Their Say Yes Pinot Gris is "Light bodied…with flavors of orchard fruit & honeydew melon." I thought this one was really fantastic, I love a crisp Pinot Gris.
Buy a bottle of Dirty Laundry Pinot Gris at Barrel Wine 'n' Spirits and support the Canadian economy.
-Kelsey