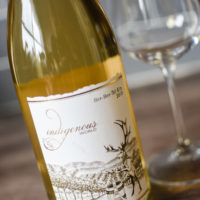 Happy Wine Wednesday, Friends! This week's featured wine from Barrel Wine 'n' Spirits is the Hee-Hee-Tel-Kin White Blend from Indigenous World Winery.
The Indigenous World Winery is an Indigenous owned winery in the Okanagan valley. This white wine is a blend of Gewürztraminer, Muller-Thurgau, Viognier, and Pinot Gris.
From their website: The wine is perfumed with rose, peaches, and orangey-lime citrus zest with crisp acidity and a mostly dry finish.
I wasn't crazy about this wine at first but after a couple glasses, I really enjoyed it. The flavour was unique, and it had a smooth finish. I think it was the rose that threw me off, I've mentioned before the floral flavours are a bit of an adjustment for me.
This wine has an alcohol content of 12.1%
Stop by Barrel Wine 'n' Spirits to try this white blend from Indigenous World Winery.