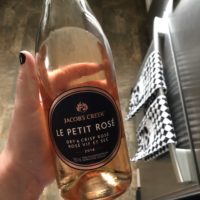 Happy Wine Wednesday! Here's what I am uncorking this week:
Jacob's Creek is one of my go-to brands for wine. Their moscato is one of my favourites because I don't find it to be as sweet as most moscato. I recently tried their Le Petit Rose and it has become a regular in my fridge.
This rose is on the dry side, in case you don't enjoy a dry wine. It is basically exactly how it's described on the bottle, dry and crisp.
-Kelsey