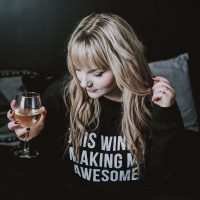 Happy Wine Wednesday, friends! This week I am uncorking one of my absolute favourite wines!
The Jacob's Creek Moscato is a white wine that I frequent, it is high in my rotation. I like this moscato because I don't find it to be quite as sweet as moscato from other brands and I also like that there's a little bit of carbonation. It's light and citrusy,
My favourite thing about this wine is that it's available in a 1.5L bottle.
– Kelsey