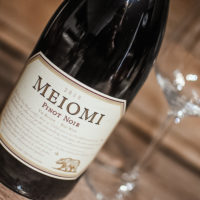 Happy Wine Wednesday, friends! This week's featured wine from Barrel Wine 'n' Spirits is the Pinot Noir from Meiomi. This is a pinot noir from California.
From the Meiomi Website: "A rich garnet color with a ruby edge, the wine opens to reveal lifted fruit aromas of bright strawberry and jammy fruit, mocha, and vanilla, along with toasty oak notes. Expressive boysenberry, blackberry, dark cherry, juicy strawberry, and toasty mocha flavors lend complexity and depth on the palate. The well-integrated oak provides structure and depth seldom seen in Pinot Noir."
When it comes to red wines, pinot noir is definitely my go-to.This pinot definitely has a lot of flavour, it's really smooth as well, not overly dry if you are someone who is not an avid red drinker.
-Kelsey