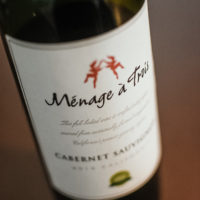 Happy Wine Wednesday! This week's featured wine from Barrel Wine 'n' Spirits is the Cabernet Sauvignon from Menage A Trois, a California winery.
From the Menage A Trois website: "Our Ménage à Trois Cabernet Sauvignon blends grapes from outstanding North Coast growing regions. Its lush, dark berry flavors, silky tannins and long, sumptuous finish are truly regal.
Our magnificent Cab reigns supreme with bold, dark fruit flavors, exquisite, silky tannins and a long, savory finish. Made in a smooth, approachable style, this wine marries a ménage à trois of grapes sourced within California's legendary North Coast region. North Coast fruit brings beautiful finesse, swagger and charm to the mix. After barrelaging in French and American oak, Ménage à Trois Cabernet Sauvignon emerges, garnet-hued and regal, ready to make you its latest conquest."
This wine is very, very smooth with rich, dark fruit flavours. I like to use dark reds like this when making pasta sauce, which I did with this! I made a lasagna and used the wine in the sauce but also enjoyed a glass with my meal and it was really great. 14% alcohol content.
-Kelsey