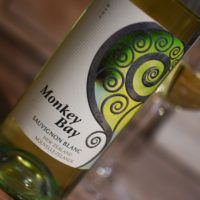 Happy Wine Wednesday, friends! This week's featured wine from Barrel Wine 'n' Spirits is the Sauvignon Blanc from Monkey Bay. This is a white wine out of New Zealand.
This wine is full of tropical fruit flavours; grapefruit, passionfruit, pineapple, kiwi. It smells amazing and tastes just as flavourful. I don't usually reach for sauvignon blanc but this wine has me thinking about the sangria possibilities. It's like summer in a bottle.
Stop by Barrel Wine 'n' Spirits today to pick up a bottle and save 10% on your wine purchase every Wednesday.
-Kelsey