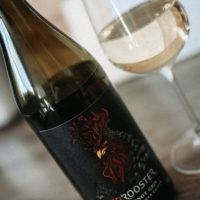 Happy Wine Wednesday, friends! This week's Wine Wednesday featured wine is the classic Pinot Gris from Red Rooster.
Red Rooster is a winery located in the Okanagan Valley. They've been rewarded 6 Lieutenant Governor's Award of Excellence.
From their website: "Clear and bright with a fresh, clean aroma of peach, melon, pear, yellow apple and marzipan. This rooster shows a slightly rich, round fleshy profile with peach, melon and a hint of spice on the palate. Then refreshing notes of orange, tangerine, lemon drop and yellow plum 'take flight' on the finish."
I don't think I have ever said, "this wine tastes like melon" but I definitely tasted the melon notes in this one. It's aromatic and very flavourful. Citrusy and delicious. This is absolutely one I would reach for again.
The classic Pinot Gris from Red Rooster has an alcohol content of 13.5% and it retails for $25 and some change at Barrel Wine 'n' Spirits.
If you are a Pinot Gris fan, I also HIGHLY recommend the Pinot Gris from Ruby Blue's Winery which is also available available at Barrel Wine 'n' Spirits.
Get 10% off your wine purchase at Barrel Wine 'n' Spirits every Wednesday.
-Kelsey