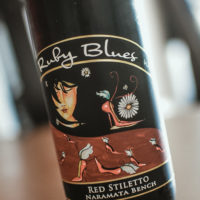 Happy Wine Wednesday, friends! This week's featured wine from Barrel Wine 'n' Spirits is the Red Stiletto red blend from Ruby Blues winery in BC. You might remember we previously featured the Pinot Gris from Ruby Blues, it's one of my personal favourites.
From their website: "This is a special wine in the Ruby Blues portfolio. It is our signature red blend with a base of Syrah grown on the winery site. This blend also has some Merlot, Cabernet Sauvignon, and Pinot varieties.
All of the grapes have been grown on the Naramata Bench and aged in American and French oak. By blending the two recent vintages we can naturally keep this wine consistent for your enjoyment.
The wine is very light in tannin and fruity, with a smoky nose. It is an easy sipping red wine that pairs well with cedar plank salmon on the barbecue or lamb chops."
This is a really nice red blend; dark fruit flavours and smoky/oaky (dry). 13% alcohol content. I believe it sells for about $27 at Barrel Wine 'n' Spirits.
-Kelsey