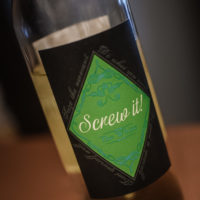 Happy Wine Wednesday, friends! This week's featured wine from Barrel Wine 'n' Spirits is the Screw it! The White.
This Canadian (from BC) wine is a light white blend. From their website: "Distinctly fruity, lavish and luxurious, The White is an alluring combination of bright fruits and satiny textures. Structured and refreshing, this wine is made in a bright style that ends in a long and juicy baked-fruit finish."
I really liked this one! Nice and light. Super affordable and it's always nice to have an inexpensive wine option when stocking up for Girl's Night.
12.5% alcohol content. This wine sells for $12ish dollars at Barrel Wine 'n' Spirits.
-Kelsey