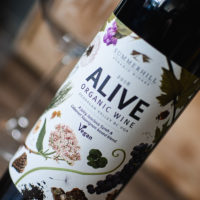 Happy Wine Wednesday, friends! This week's featured wine from Barrel Wine 'n' Spirits is the Summerhill Pyramid Winery's Alive Organic Red.
This red wine is a blend of Syrah, Merlot, Cabernet Franc, and Cabernet Sauvignon grown organically in the Southern Okanagan.
From their website: "Medium bodied and deep ruby in colour with aromas of intense bruised plum, redcurrant, vanilla and spice. Round on the palate with smooth, light tannins and flavours of ripe dark plum, red cherry, and blackberry with inviting vanilla spice on the mid palate. "
As soon as I opened this one, the smell was intoxicating. It was bold, smooth and flavourful. Not only is this wine organic, it's also vegan. Alcohol content of 14.2%. Aged 6 months in neutral oak barrels.
Stop by Barrel Wine 'n' Spirits today to pick up a bottle of the Summerhill Pyramid Alive Organic Red, or try their Alive Organic White and Rose.
-Kelsey