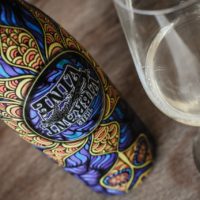 Happy Wine Wednesday, friends! This week's featured wine from Barrel Wine 'n' Spirits is the Woops white from The Vibrant Vine Winery.
The Vibrant Vine is another BC winery, located in Kelowna. The Woops white wine is a 7 varietal white blend.
From their website: An immensely popular wine with intense tropical aromas, spicy floral notes, stone fruit and citrus zest. Look for concentrated flavours of ripe apricot, nectarine and green apple on the palate.
In my opinion: Definitely taste the spice, there's a little burn but I also still found it pretty smooth. It's citrusy. I enjoyed this one, would definitely drink again. I look forward to also trying their rose.
Why is this white wine called Woops? Well, you may have noticed the label is upside down.  The label was approved upside down and went to printing, then they just rolled with it! I love that, they sound like people I could hang with.
This wine has an alcohol content of 11.5% and retails for 29.99 at Barrel Wine 'n' Spirits in Peace River. Stop in every Wednesday for 10% off your wine purchase.
-Kelsey