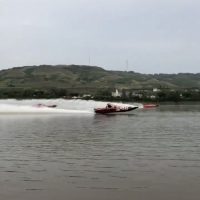 The World Jet Boat Championship ROARED through Peace River this weekend!
There were boats competing from all across the world, right here in the Peace River. Boats from the United States, Mexico, New Zealand and right here in Peace Region all took to the river to duke it out.
Races took place from morning till the evening, despite the rain! Although a little behind schedule, the boats didn't fail to put on a good show.
Two cool things you might have missed. Towards the end, the V8's came out. These things had such a deep sound that if you stood from where I was standing, you could feel the vibrations of the engine rushing through your body! Yeah, on land! Super cool.
The other cool thing, the JET BOATS! Like, actual jet powered boats. Sixteen hundred horsepower jet engines once used to power helicopters. They ran the last two races of the evening, and wow! These things SOARED down the water! Check it out!
Huge thank you and shout out to Bad Habit Racing for letting me hang out with the crew, and for this cool hat!
Were you at the races this weekend? If not, you REALLY missed out.