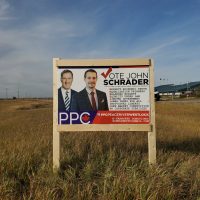 Voters in the Peace Region will be electing its Member of Parliament on Monday. Five candidates are vying for the Peace River-Westlock seat, including John Schrader of the People's Party of Canada. Schrader says residents he has met with are concerned about the lack of activity on building pipelines.
"Our leader, Maxime Bernier, and the P.P.C. have made it very clear that we will use the House of Commons to immediately vote and approve private sector pipelines that are in our national interests as well as any other capital projects in our national interests."
Schrader adds the P.P.C. has a problem with transfer payments, which he refers to as subsidies to other provinces. "With adjustments due to inflation, I believe Alberta has paid out $400 billion since the program's inception in 1953." Schrader is a farmer in Westlock County.
Other candidates campaigning to become our local M.P. are: Leslie Penny of the Liberal Party, Progressive Conservative incumbent Arnold Viersen, Peter Nygaard of the Green Party, and Jennifer Villeburn is representing the N.D.P.
To find the voting station closest to your home, click here.
Kenny Trenton: Trending 55 Newsroom